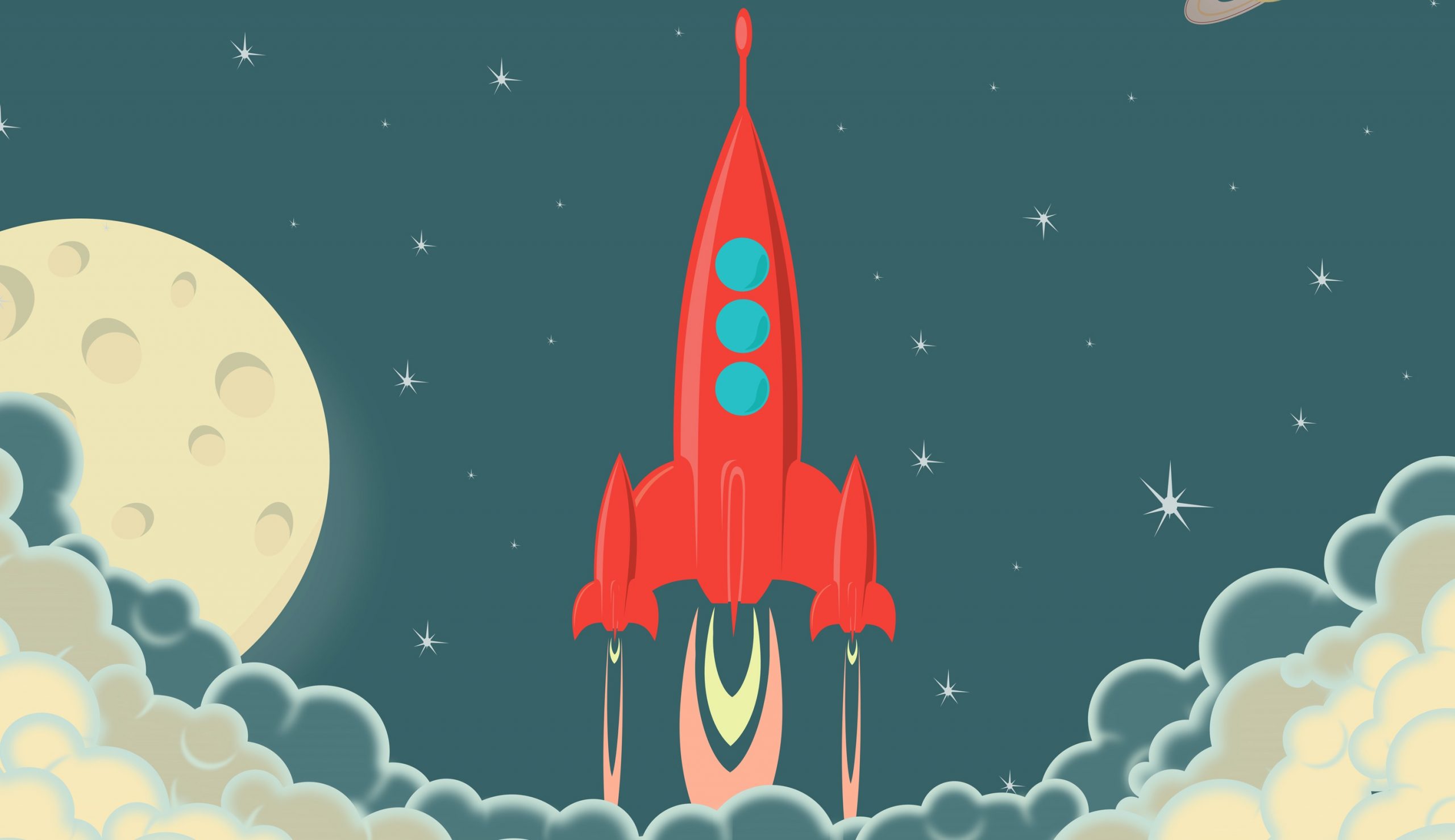 In this guideline, we're going to talk about how to attract high-quality backlinks in the English-speaking countries (USA, UK, Canada, Australia, New Zealand, etc.). Our goal is to share effective, time-proven methods of backlinks generation, the ones that improve SERPs and are sure to bring tons of traffic to your website.
Who is This Guideline For?
This guideline will help if you want to promote your business in the English-speaking markets (mainly, in the USA). As you don't know anything about spoken and unspoken rules of promotion there, it's extremely complex to attract valuable backlinks.
In most markets, attracting useful links to a website isn't that hard. There are multiple link exchange markets & link buying services that are just waiting for your money. Pay them and they guarantee to generate dozens of backlinks for your business.
Though crowd marketing (a more reliable and 'white' method of backlink generation) is getting increasingly popular in Russia, India, Pakistan, Indonesia and other large markets, companies typically don't want to wait while their backlinks are naturally generated. It's still much easier to purchase links rather than invest in nurturing relationships with webmasters, bloggers, and even casual customers.
Unfortunately, you can't just buy links that fit the bill in the USA. As of yet there aren't any good link exchange services there. Theoretically speaking, you can still purchase links, but it's almost guaranteed that this grey-hat activity will take a toll on your website's SERPs. Getting a penalty from Google might also be a looming possibility.
What are You Going to Find in This Guideline?
As we've stated above, getting a high-quality backlink in the USA isn't that easy. Below you'll find 30 effective methods how to build them in a natural way, without violating Google's policy. For each link type, we'll try to answer the following questions:
Where can you get the links?
How can you use this or that link platform?
Why do you need this type of links?
So, let's begin our journey.
How to Get Backlinks with 'Natural' Anchor Text
First off, let's examine several methods of generating backlinks with so-called 'natural anchor texts.' Knowing them is important if you want to bypass Google penalties.
But what are these 'natural anchors' links anyway?
As a rule, they are:
Brand names or their variations within the link. For example:
CLEVER-SOLUTION, CLEVER-SOLUTION COMPANY, DIGITAL MARKETING AGENCY CLEVER-SOLUTION
Commonly used words. For example: HERE, SOURCE, WEBSITE, PAGE, etc.
URL used as link's anchor. For example: https://clever-solution.com, clever-solution.com, https://clever-solution.com/Digital-Marketing , etc.
Complete name of a page that is used as anchor text. For Example: "9 Extensible Schema Markups That You Need to Know."
To get natural backlinks, use the following methods:
#1
Directories (Website Catalogues)
Some marketing pros say that directories are useless: Their backlinks have no effect on a website's SERP. However, if you do your homework – search for and register on authority directories – the result will exceed your expectations.
There are several types of directories: general directories, niche directories, paid and free directories. Let's have a closer look at them.
General Directories
Basically, you can register any website on a general directory – just because they cover each and every niche. Yet, it doesn't mean that you can just take any directory and register on it. Make sure that you make a list of spam-free directories, select the best ones and only then proceed to registration.
Don't forget that you need a unique description of your company for every directory. Then, just include a link to your homepage and enjoy your first high-quality backlink.
Remember, some directories allow several links. That is, you can include a link not only to your homepage but also to the website's important inner pages.
Why do you need these links? They won't bring in tons of traffic – that's not the purpose – but they will help you increase your SERPs a bit and, most importantly, enhance your anchor list.
Example: https://www.dmoz.org/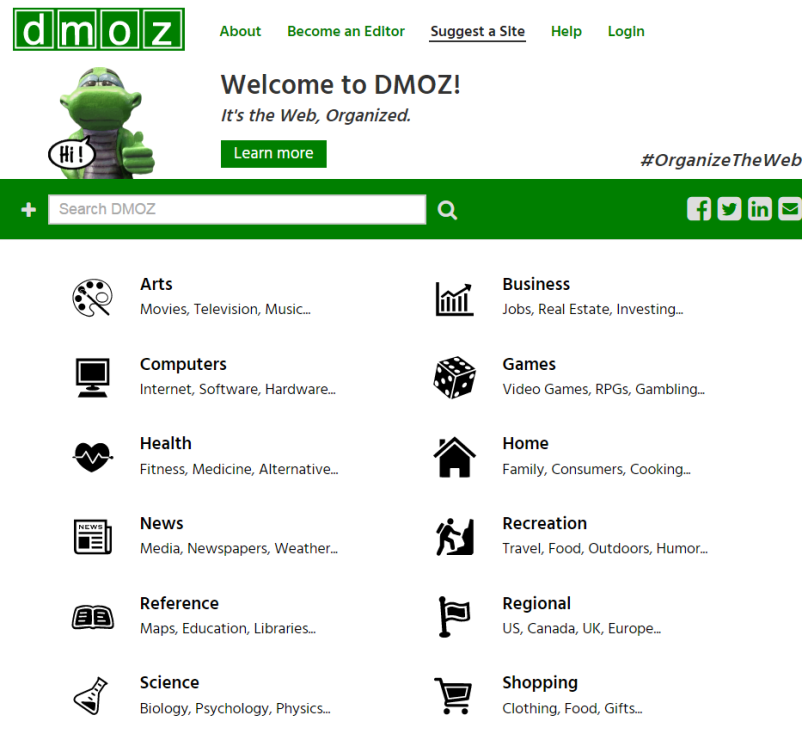 Niche Directories
These are website catalogues that are focused on a single niche (e.g. health industry). It makes sense to add your website to niche directories just because they are easily searchable in Google. Some of these directories will pop up in Google's top 20 if you use specific keywords.
Niche Directories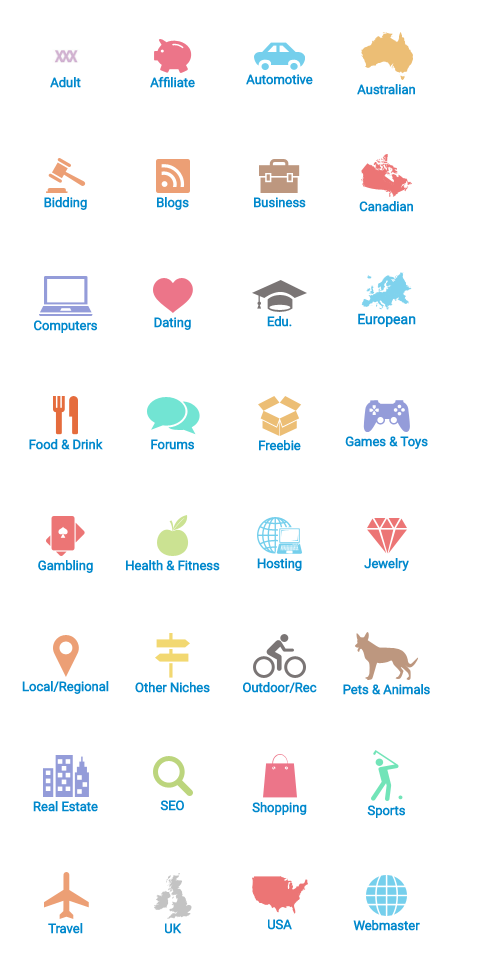 You're going to need unique descriptions for every directory as well. Just fill in all the necessary fields and add a link to your website.
Why do you need these links? Well, they are generally used to increase SERPs, bring in a bit of traffic and improve the anchor list as well.
Example: http://www.highlighthealth.info/ Health niche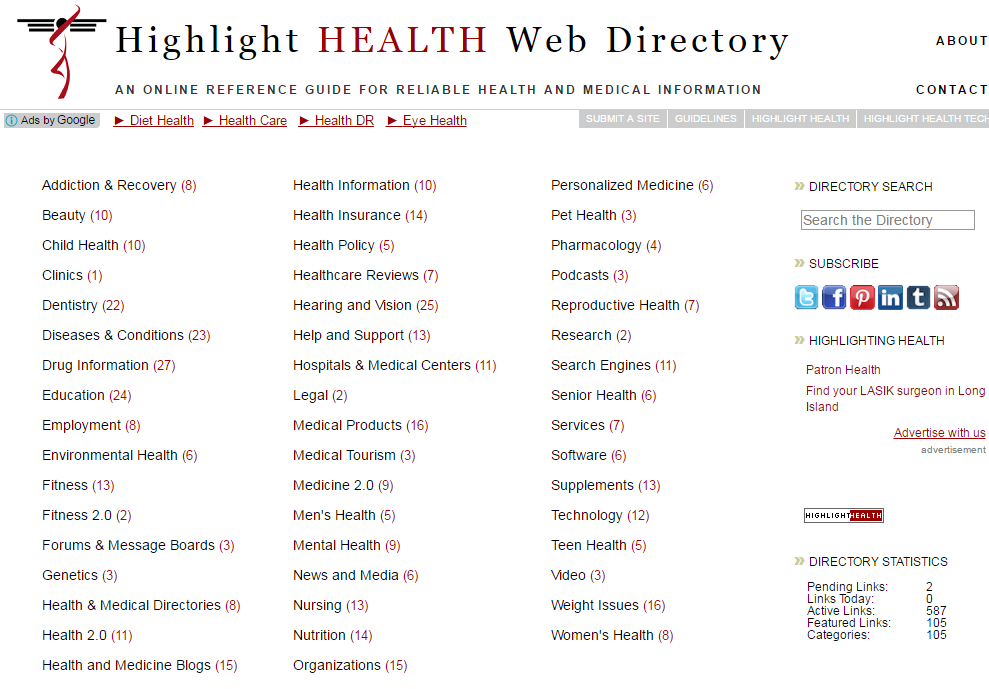 Both general and niche directories can be paid or free. As a rule, paid directories are better as their admins are interested in adding your company as soon as you pay them. They allow you to add a detailed description of your business as well. Meanwhile, it can take months until your business gets its first backlink for free.
#2
Press Releases
If you are ready to go out of your way to get a high-quality backlink from an acclaimed, trustworthy website, press releases are the way to go. Moreover they can be efficiently used as a PR tool to maximize your company's online presence.
Your company reports about a newsworthy event, so including a link to your company's homepage just makes perfect sense. No wonder that several years ago press releases were one of the most effective tools to get quality links.
Meanwhile, don't forget that every press release needs to be professionally written. What to keep in mind when writing a press release:
It has to be newsworthy. Is your press release about anything that breaks new ground? Does it make any sense to publish it now? Will it bring any value to the readers?
It needs to have a catchy title. If the title of your press release isn't good enough, nobody will read it. Obviously, if you want your perfectly written text to be read and shared (and "shared" is actually your true goal), make sure to knock the title out of the park.
Text quality matters. Every press release represents your company. It's not just any other article from your blog where you can go easy on text quality. Make sure that your copywriting team does a stellar job with every press release.
Make it in third person. The job of any press release is actually to report a newsworthy event, not to put your brand on the map. So, don't try to openly advertise your business. Write your press releases in third person – that's what users like and more importantly trust.
Here are several examples of websites where you can publish your press releases:
Here's how a PRweb press release looks like: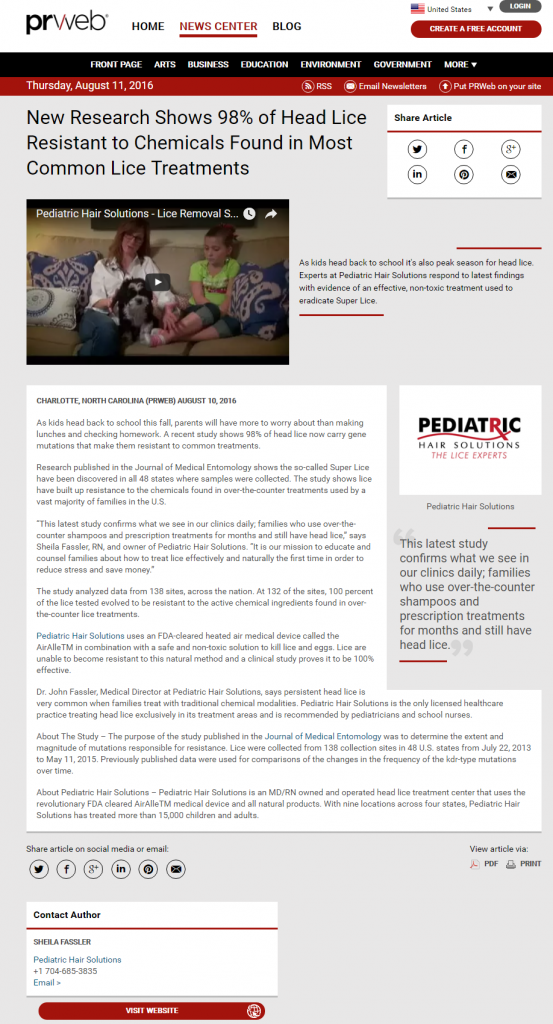 #3
Guest Posting
Guest posting is very effective when you need to not only increase page weight (trust) but also bring in more page visits. However, it's crucial to utilize guest posting methods right. Don't use them to include anchor links with keywords – Google knows how to detect these links – rely on 'natural' anchors instead.
How does it work?
Start off by searching for trustworthy blogs in your niche. Make a list of these blogs and analyze them, trying to dissect their style, topics, goals, etc.
Then, write and post a useful article on your blog. It should be quite similar to the articles which are posted on the blog of your liking.
After that, connect with the blog's authors or admins and offer your article(s) for guest posting. This is where it gets tricky. Blog owners are bombarded with dozens of analogous emails every day, so you have no other choice but to keep trying to connect with them.
What's next? The author can write an article about your company and then post it on his/her blog (of course, a link should be included), or just write the article by yourself.
As a rule, blog owners will ask you to pay for including links in your articles. However, if your article is really good and has a potential to generate tons of traffic, most likely they are going to agree to post it for free. In other words, the better your articles are, the higher are your chances of getting high-quality backlinks for free.
The whole point of messing with guest blogging is rather obvious: Articles from popular blogs are shared all over the Web. It's a great opportunity to generate dozens of backlinks by posting a single great article.
Here's what it looks like:
How to Get Backlinks by Sharing Information & Content
#4
1-800 Directories
If your company has a free 1-800 phone number, register it on specific 1-800 directories. For instance, register on the http://www.800-numbers.net/ directory to get a free backlink.
#5
Blog Aggregators
Blog aggregators skim the best blogs from the Web. If your blog is good enough to be included into a blog aggregator, traffic will follow. The bad news is, it's quite hard to get your blog there. It doesn't hurt to try, though.
Take a look at the blogs that managed to get in. What do they write about? What problems do they solve? What style do they use?
Just do your research and try to replicate other blogs' success. If you're lucky (and professional) enough, you'll get more traffic, more shares and more backlinks.
Example: http://alltop.com/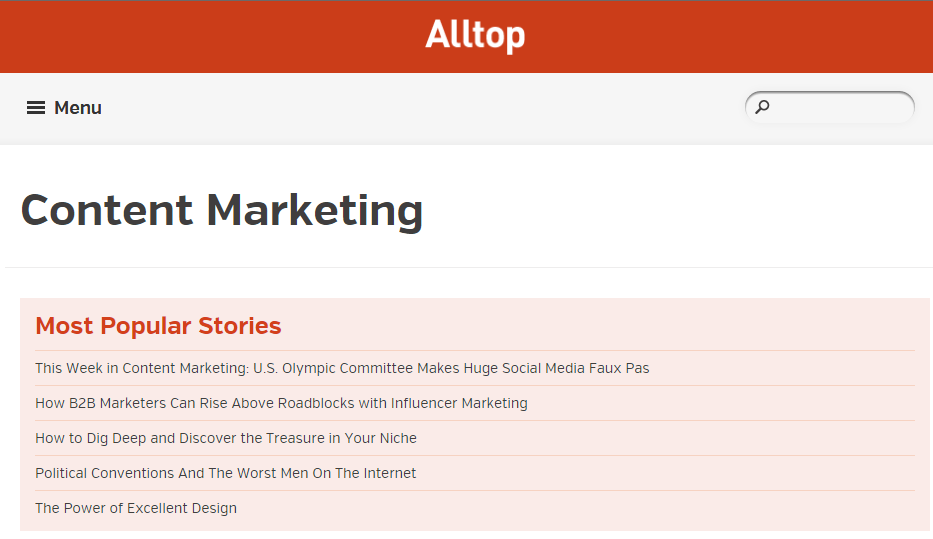 #6
Company Listings
If you want to promote your company in local search, company listings will do just fine.
Just use https://moz.com/local to find out where your company hasn't been registered yet. Then, register and see your SERPs gradually improve.
As a result, your improve your website's SERPs in local searches, drive traffic and receive phone calls from local listings.
#7
PDF Directories
Most likely, your website features lots of useful content for visitors, leads and customers. If so, just convert it into easily downloadable PDF files. Then, share them on blogs, forums, and social networks. You can add these files to PDF directories as well.
As a result, you kill two birds with one stone: (a) improve the quality of website's content; (b) get high-quality links from third-party resources.
PDF files are valuable content, so it's not that hard to reach the top using long-tail keywords. PDFs will help improve your linking profile as well.
Example: http://www.slideshare.net/
#8
Infographics
Recently, infographics have become one of the most popular methods of linkbuilding (and digital marketing in general). They're quite simple to create but highly effective when it comes to getting links, gaining trust and authority.
To generate high-quality backlinks with infographics, just do the following:
Analyze infographics of your competitors in the industry;
Figure out what you can improve or do better than them;
Design and develop your infographic;
Post the infographic on your blog;
Post and share it on specific infographic-focused websites (and on social networking platforms).
As a result, your website not only gets a positive influx of high-quality backlinks but also reaches the top in the image search. Just make sure to use enough long-tail keywords.
Example: http://infographicplaza.com/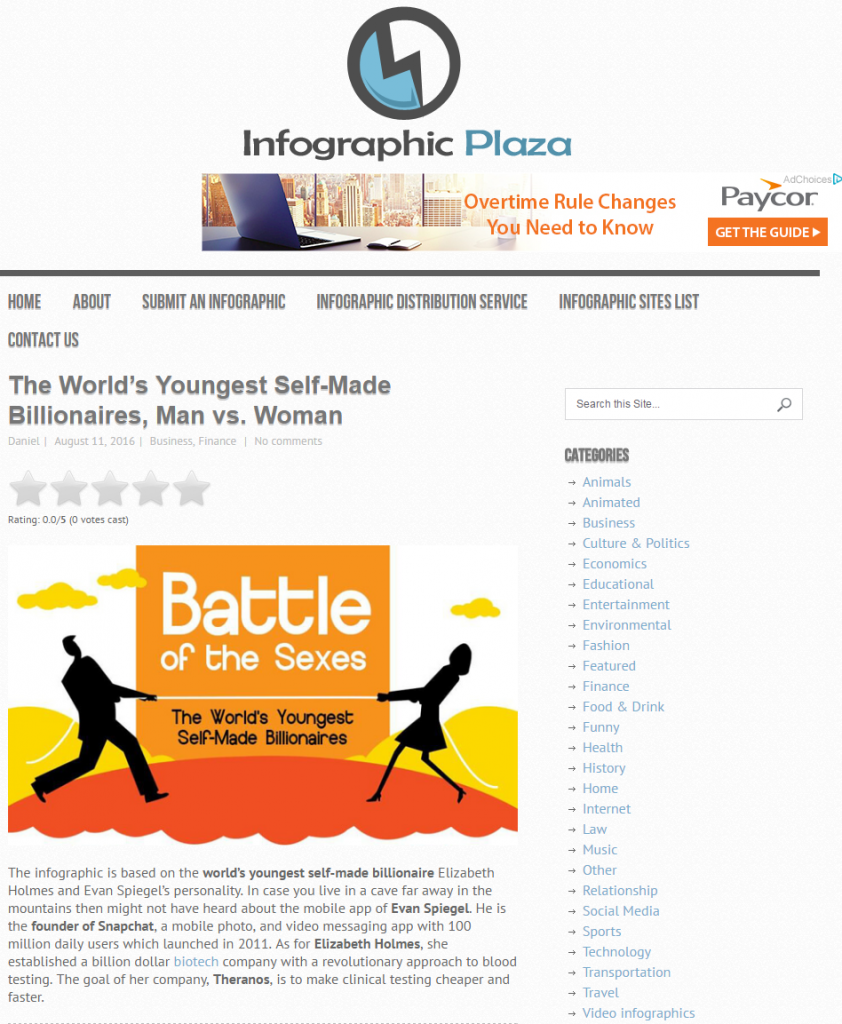 #9
CSS Directories & Galleries
If you are a proud owner of a website with really impressive design, why not add it to specific CSS directories and galleries? There is a great number of them, and it makes sense to use them as a backlink generation tool.
In other words, if your website is visually appealing and has great UX/UI, just add it to CSS galleries. By doing so on a regular basis, you'll win trust and improve your website's linking profile (from a search engines' standpoint).
Example: http://thecssgallerylist.com/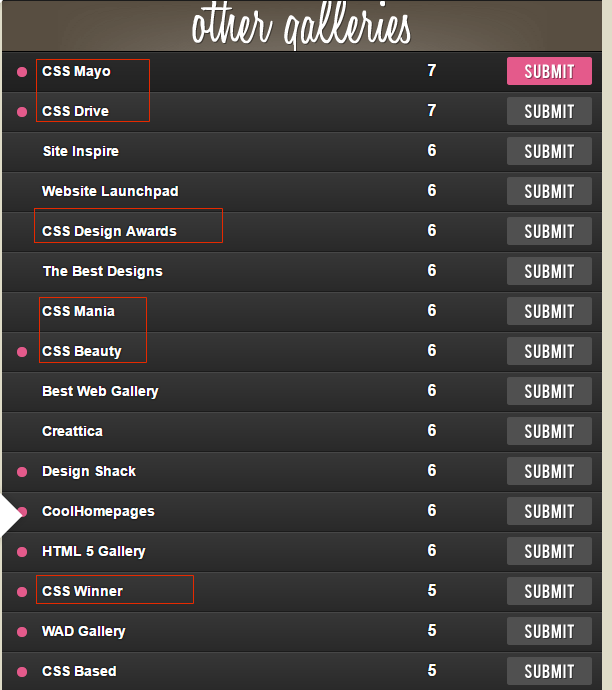 #10
Design Directories
In a similar manner, you can add your website to the so-called design directories. Again, make sure that your design is worth mentioning. If it's not good enough, just don't waste your time – admins are very picky about which website to include into their precious lists.
If you succeed though, you get valuable backlinks and improve your linking profile.
Example: http://www.dexigner.com/directory/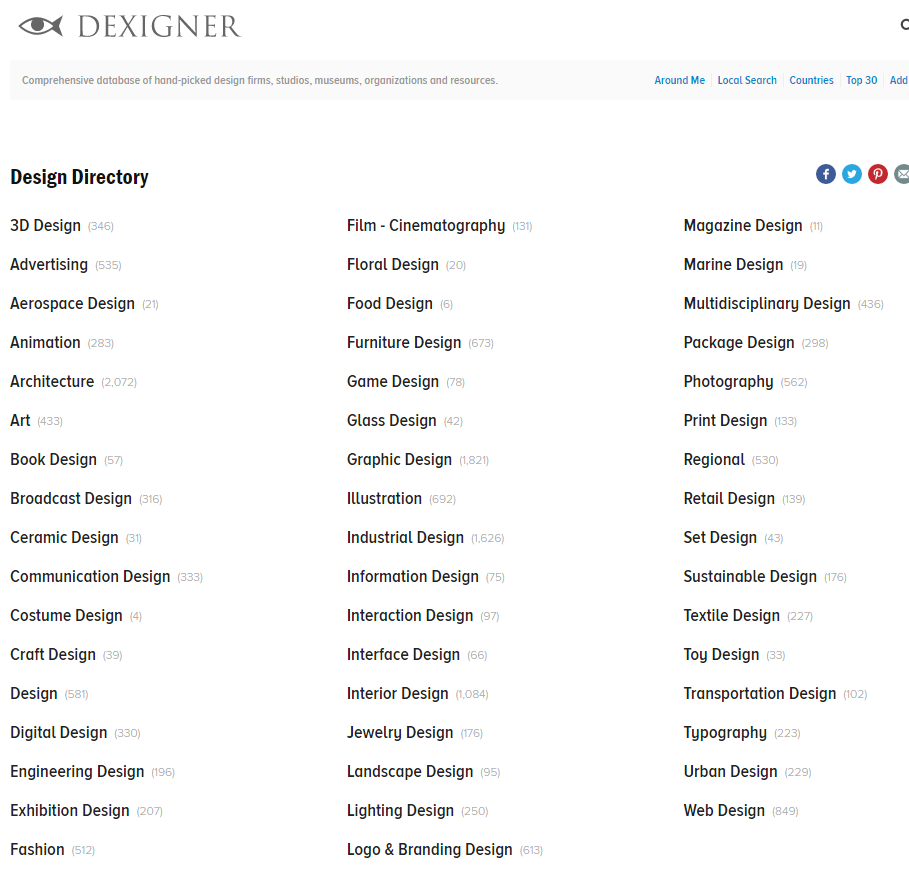 #11
Startup Directories
These directories are a great source of free backlinks for recently launched websites and projects. If you're a startup, feel free to register – increased traffic is guaranteed (at least in the beginning).
Here you'll find a list of startup directories: https://ninjaoutreach.com/startup-directories/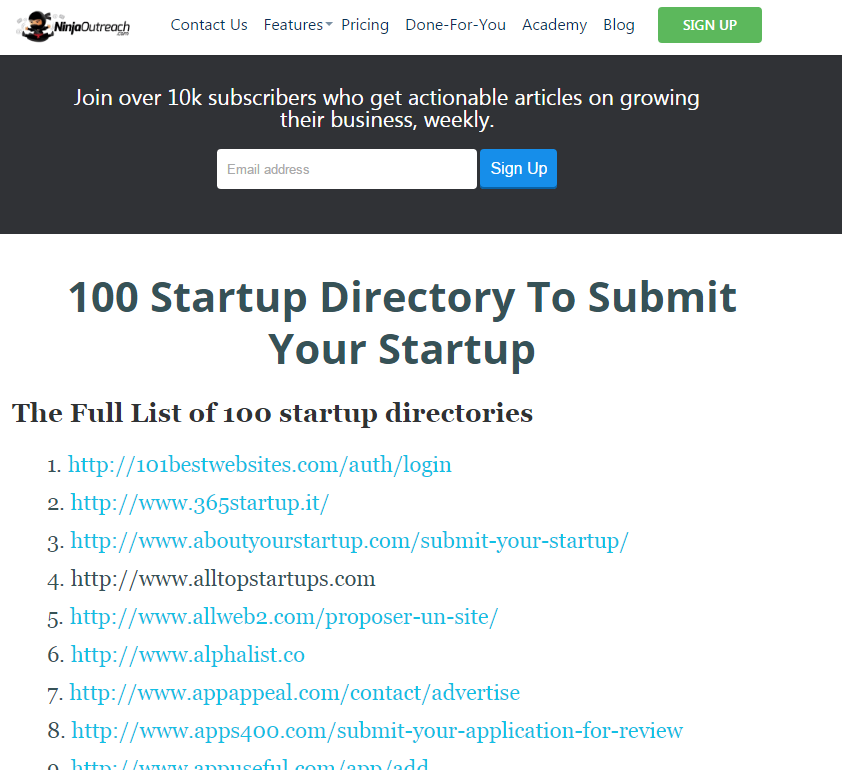 #12
Event Websites
Driving backlinks from event websites isn't too common. Yet, it's one of the best methods of getting high-quality backlinks quickly and easily. In some cases, adding your website to event platforms is as effective as publishing press releases.
On the flipside, you have to organize some kind of an event. But if your company is no newbie to launching conferences and events on a regular basis, you've just found a backlinks goldmine.
Example: https://eventida.com/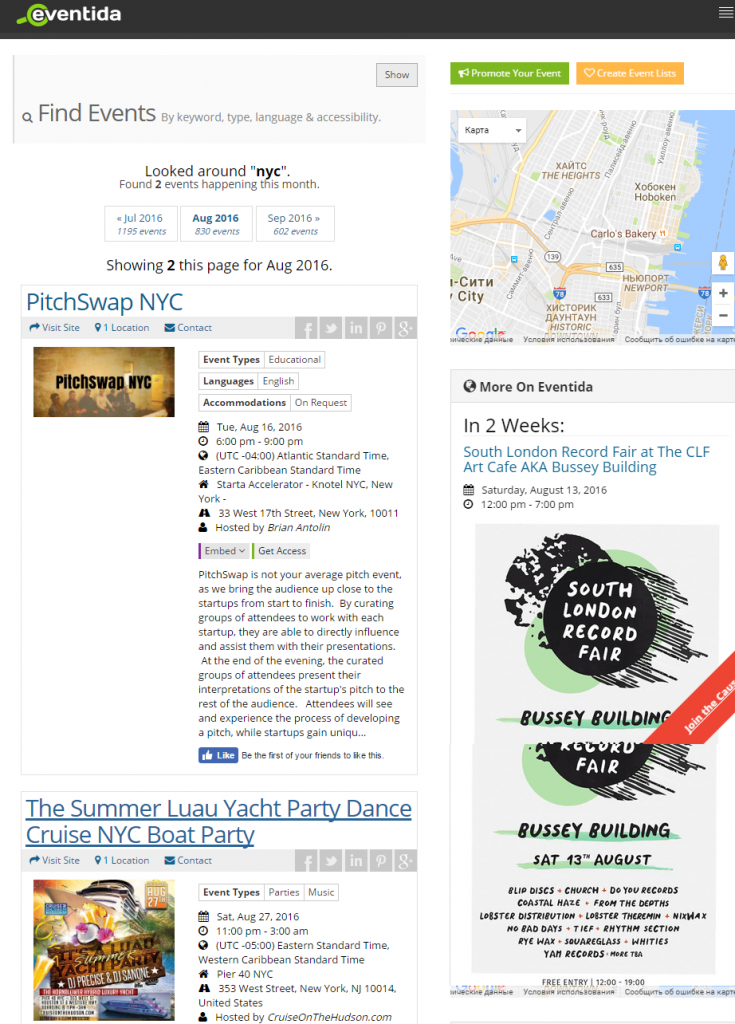 #13
.EDU and .ORG Websites
Backlinks from .edu and .org websites are very valuable. Search engines simply adore them, so it's no wonder that some people offer their help on multiple blogs and forums. The prices are skyrocketing, but there are ways of getting backlinks from .edu and .org websites without third-party intermediaries.
Of course, you'll have to connect with representatives of a given .edu or .org website no matter what. They'll help you add your link to the website. Basically, your goal is to nurture relationships with these people and then ask politely about posting several links to your website.
If you choose to cooperate with intermediaries, it may be even more efficient at first, but then the costs will pile up. We guarantee that you'll feel the difference.
#14
WEB2.0 Websites
There are lots of WEB2.0 websites. Even if you focus on high-quality ones, you're going to find well over 200 websites.
The procedure is easy: (a) register; (b) create a unique template for your website; (c) post unique content. While 'b' may seem a bit complex, creating templates is really easy with special software.
Example: https://www.blogger.com
To get useful backlinks, you need to invest resources to support your 'local' websites on these platforms: post content, add links, etc. It takes time, yet you can build valuable backlinks to your website without having a huge budget.
Here's your ultimate list of WEB2.0 websites: http://techniblogic.com/top-50-high-pr-web-2-0-websites-list-2015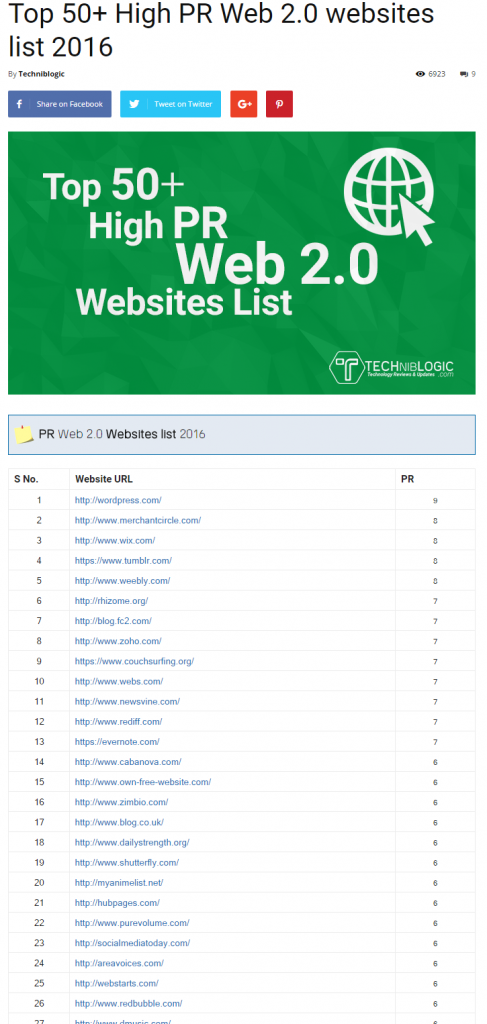 How to Get Backlinks with Crowd Marketing Methods
#15
Blogs
Crowd marketing sports an array of different linkbuilding techniques. One of them is blog commenting, which is undoubtedly a very effective method to drive high-quality backlinks to your website. It doesn't take much time and resources to put it in place as well. It's especially efficient if you need to boost your website's SERPs for a short period of time.
Blog commenting works just fine if comments are of high-quality and relevant to the post you're trying to leave a comment to. Pay special attention to how you include links to your website. Always add backlinks to relevant sources and authority websites. If you don't do that, you'll most likely be blocked, or your account may be suspended.
In other words, links to your website should look natural in the comment body – try to help people not just popularize your company or brand.
Example: http://backlinko.com/seo-checklist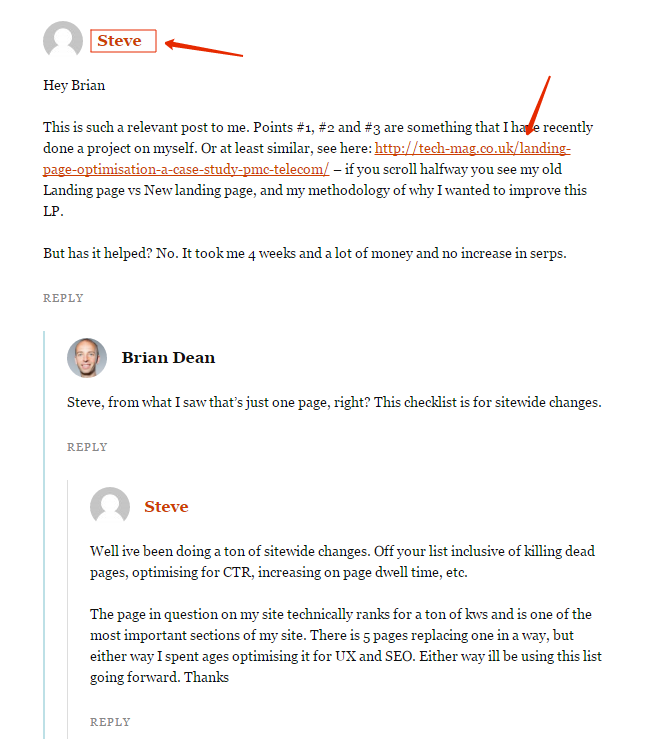 #16
Forums
The process is similar to posting comments in blogs in a sense that you need to be helpful, not utterly promotional.
The difference is that you must have an approved, reliable account. That is, it needs not only to be approved by a forum's admin but also have lots of comments and a positive rating. You should follow and post comments in 'active' threads as well.
Forums are a reliable source of trustworthy backlinks. If you do everything right, you will not only get niche-specific links (which Google values) but also nice traffic increase.
#17
Q&A Platforms
There are lots of Q&A platforms on the Web. Quora is by far the most popular one.
To get backlinks from Q&A platforms, you need to have a high-quality, well-known account. So, you will have to spend some time answering questions, following other users and liking other posts before you begin inserting links to your website into your answers.
You can create a specific account for every niche you're trying to cover in your digital marketing campaign or several accounts that focus on a single niche for a better cumulative effect.
As a result, you will 'plant' your links on highly valued platforms and attract traffic from them.
Example: https://www.quora.com/Is-the-field-of-chiropractic-medicine-legit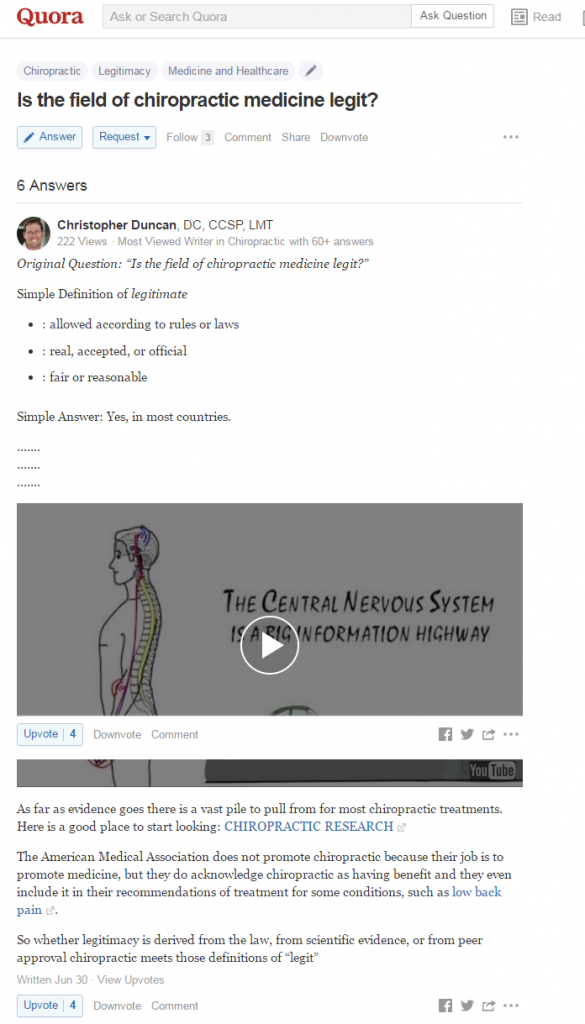 #18
Social Networking Platforms
The importance of sharing your content on social networks is evident. By using social networking platforms, you can quickly build dozens of backlinks and drive lots of traffic to your website.
The strategy? Just look for industry-related groups and share your content. Rinse and repeat.
#19
HARO
HARO (Help A Reporter Out) is a resource for reporters who are looking for writers to generate content for them. HARO isn't well-known, yet it may bring in one of the best backlinks on the Web.
The idea of linkbuilding with HARO is simple:
You register as a content source
You receive and then sift out content generation offers. Reporters will simply pitch you to write this or that piece of content
You reply to the reporters, including credentials into your answers
Then, if everything works out just fine, your credentials (with the link) will be added to trustworthy websites.
Easy, right? Though you'll have to write lots of answers, sooner or later someone will put your links where you need them to be.
Other Linkbuilding Methods
#20
Guestographics
This new linkbuilding method has become increasingly popular in the United States – not only for generating backlinks but also for driving traffic. Brian Dean, an SEO celebrity, is quite sure that this linkbuilding technique is a win-win solution for any business right now.
Infographics sharing is at the core of this method; however, before you start searching and copying popular infographic ideas of your competitors, do the following:
Run an analysis of your competitors' content and figure out what they lack: maybe they have failed to cover all the necessary points on the topic or never worked hard enough on the design part, etc. Do your homework to make your infographic much better than your competitors currently have.
Entertain and educate. To ensure that your guestographic is a success, invest enough resources to make it useful and a bit entertaining.
Excel at the design stage. Infographics are all about how visually appealing they are. Make sure that your guestographic is attractive and compelling enough. Design is what bloggers look at when they decide if your guestographic is worth of publishing in their blogs.
Write descriptions for every infographic when you post it on your website.
Sift out industry-related websites and connect with their owners to publish your infographics.
Create unique descriptions for every guestographic. Don't forget to include a backlink to your infographic.
If you're lucky and a blog where you've posted your infographic is popular enough, most likely you will get not just a single backlink but dozens of them.
To learn more about guestograhics, click the link: http://backlinko.com/how-to-get-backlinks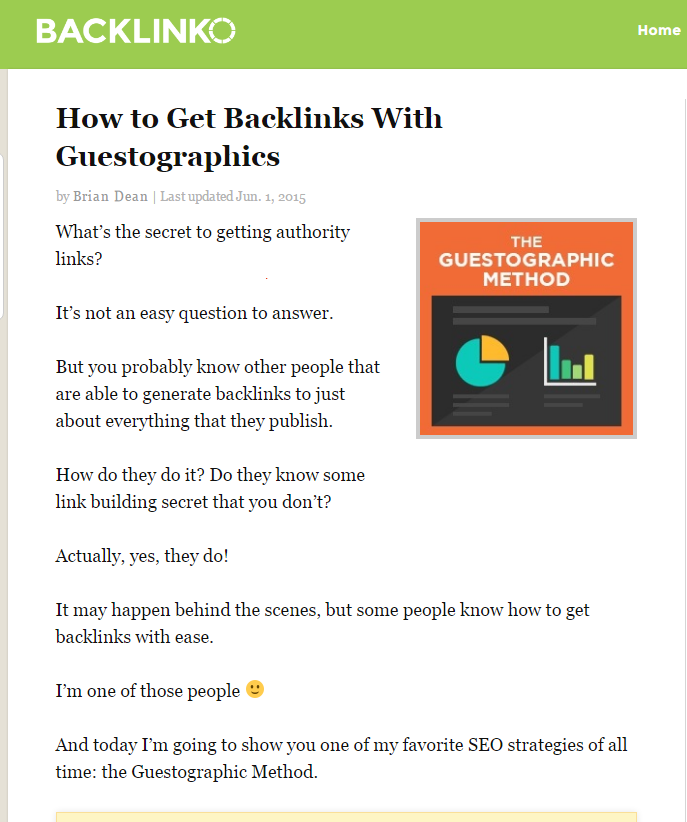 #21
Interviews
This linkbuilding technique has been used for years, and still remains very effective. By Interviewing industry gurus, you not only create backlinks but also extend the reach of your company.
Interviews is a quite useful type of content and can be published in blogs, news websites, or on websites of interviewed people. Not to mention that they are shared by casual readers and professionals on their own platforms.
As a result, if you make a routine out of interviewing, you will generate tons of backlinks from trustworthy, relevant websites. These links are worth gold.
#22
Testimonials
Companies likes great reviews and testimonials about their products and services. Guess what? By cranking out testimonials, you can improve your own linking profile. If you really enjoy what some other company does, never miss a chance to leave a testimonial.
Here's what you need to do:
Write a testimonial. Then post it, ticking "free to use" mark. The company will definitely post your testimonial on its website.
The company uses your testimonial and links back to your website. Basically, they show their clients that the testimonial is trustworthy and real.
So, if you have a website, it makes sense to create your personal page on it. It will be much easier to leave testimonials and then get other companies to link to your website.
Example: http://kenshoo.com/client_testimonials/zappos/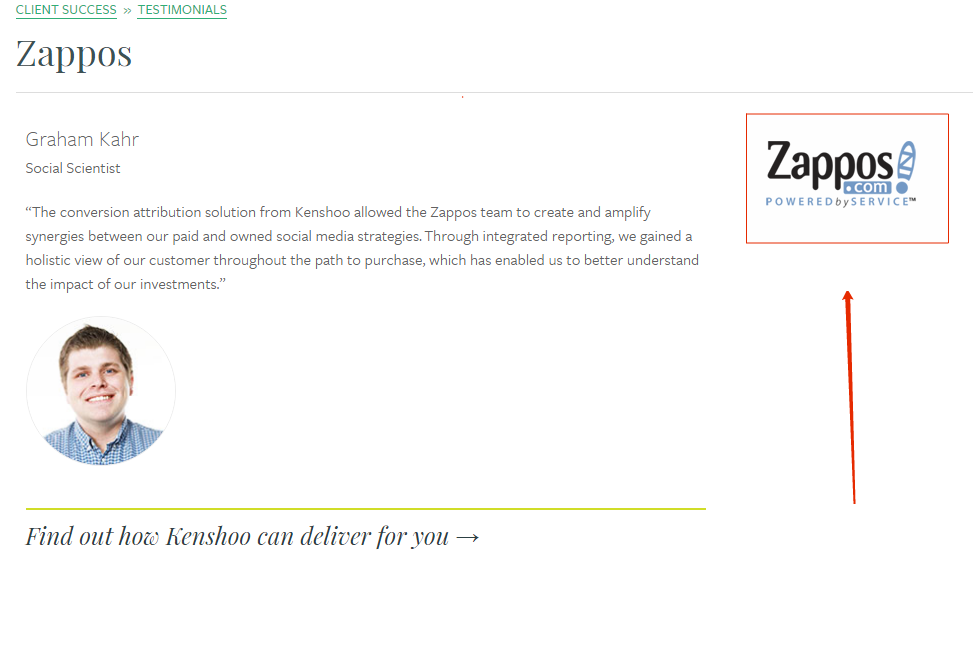 #23
Mentions
If you have a popular blog or a website, or you're just some kind of a niche celebrity, most likely you are regularly mentioned by other users – in articles, posts, comments, etc.
The bad news is, all these mentions lack backlinks to your website. The solution? Find these mentions and turn them into backlinks.
You can do the following:
Find mentions without backlinks. You can detect them by using https://mention.com
Connect with website's owners and negotiate on how you can add links to your website
Get a branded backlink to your website.
Mentions are perfect when you need to generate high-quality backlinks and drive relevant traffic.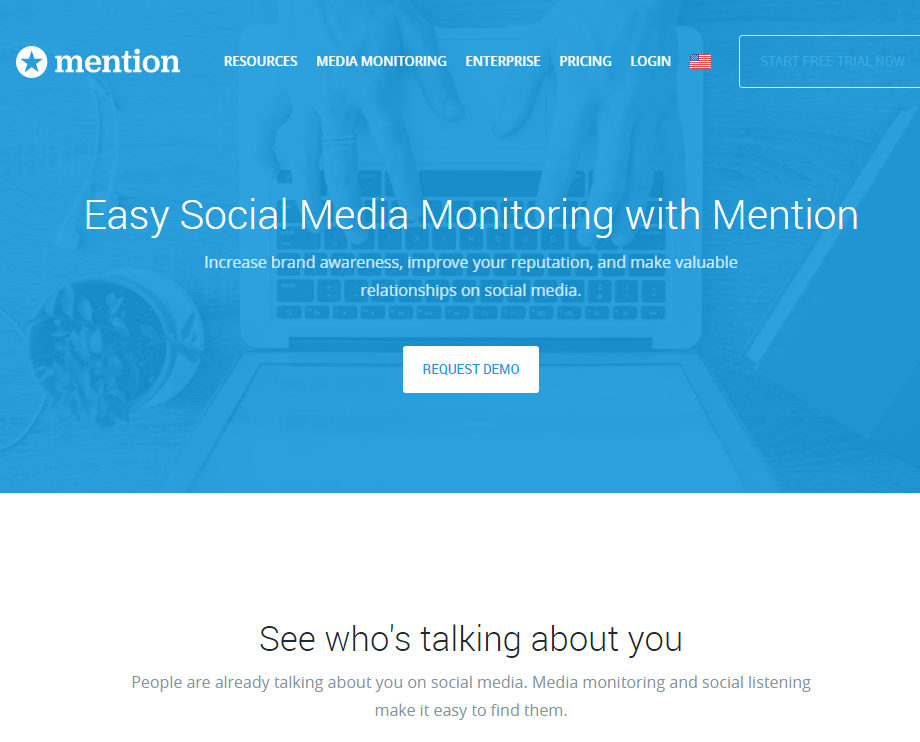 #24
Competitions & Awards
This technique is great if you're lucky to have a website with a stunning design. All you need to do is just register your website on such award platforms as http://www.awwwards.com/.
After that, you just compete with other websites, and; to tell the truth, it doesn't matter much if you win or lose – your link is already there.
Some benefits of taking part in competitions:
You get a high-quality backlink from an authoritative platform.
These award platforms are rather popular. That is, you're going to get real-time visits to your website. It will help you improve your website's trustrank.
Users will test-drive your website to pinpoint soft spots that can be improved. Just analyze what people say and then do your homework.

#25
Broken Links
This is a quick, never failing method of getting backlinks. All you need to do is:
Analyze search results to find industry-specific blogs
Search for broken links on a website's pages
Connect with the website's owner to replace the broken link with your working one
Get a high-quality backlink from a relevant website.
As you see, there's nothing complex about it. Most website owners will be happy to replace broken links with links to your website because it improves their linking profile as well.
The only problem is that it takes quite a lot of time. So, it makes sense to automate the process from the very beginning. This way, you're going to attract lots of backlinks in no time.
#26
Expired Domains with Pagerank
The idea is simple: You monitor the Web for expired domains with great pagerank and, when you have found one, you purchase the domain, brush up the website and put backlinks to your own resource. The important point here is, you need to put a monitoring process in place from the very start.
Basically, your routine will be as follows:
Look for niche-related websites on expired domains
Analyze these websites to check if they satisfy your needs
Restore the website from the archive and wait until it's indexed
Improve the website to make it more credible
Include links to your website.
If you're lucky to find a domain with a high pagerank, it can become one of your best link sources.
#27
Cooperation with Webmasters
There are lots of forums and platforms where you can find webmasters who try to 'sell' backlink opportunities to website owners. If you connect with them, they can add your links to the websites they are working on.
So, the strategy seems to be rather viable. The problem is, it's not that easy to find webmasters who deliver. You will have to do your own webmaster research to figure out which ones are good enough to cooperate with.
After you've found trustworthy webmasters, just give them some time to post your links. If everything is fine, work with them in the future. But if their efforts leave much to be desired, just find other people.
#28
Copycat Links
Copying the system your competitors use to stay ahead of your company is a basic linkbuilding strategy. All you need is to push your links to websites and platforms where your competitors are already present.
How to do that? Well, just analyze competitor on-page optimization efforts and figure out what they do right. Then, analyze their backlink profile and try to add your links to similar platforms.
That's it. Now you've implemented the same strategy as your competitors and can expect your SERPs to soar.
#29
Trustworthy News Websites
Though posting your content on popular news websites comes at a price, benefits of this strategy are also impressive. A single link can bring in dozens of visitors and improve your SERPs.
To publish your content, you'll have to contact an intermediary. You can pitch editors as well, but, to tell the truth, in most cases your posts won't be published. Just connect with intermediaries and offer your high-quality content.
Examples: http://www.huffingtonpost.com/ http://www.chicagotribune.com http://www.forbes.com http://nypost.com/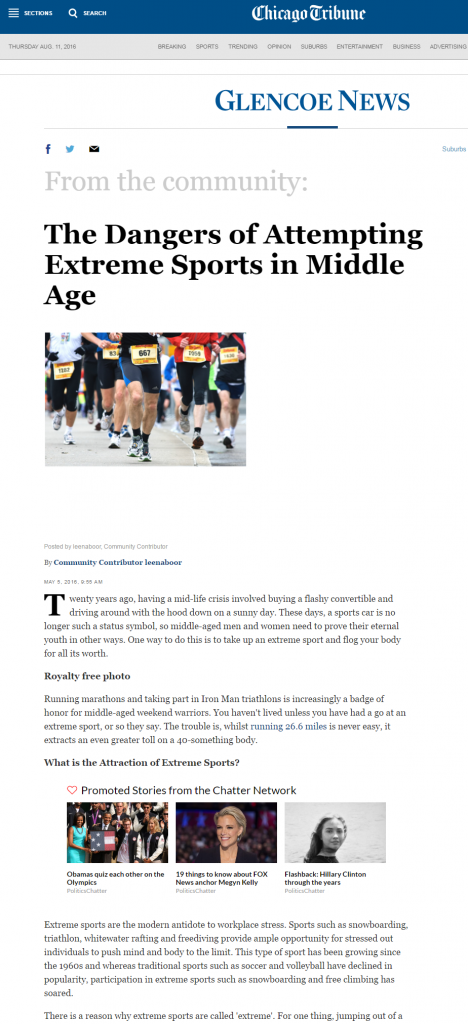 #30
Satellite Websites
This method is quite similar to searching for websites with expired domains. The only difference is that satellites are created to catch traffic. Therefore, they need to have unique design, content, structure, etc.
Your satellite websites shouldn't be doorways – they need to be real websites for real people. It makes sense to invest resources in developing satellites. A single link from a trustworthy satellite equals to dozens of paid links. The better their quality, the better backlinks you will get.
To Sum It Up
In this guideline, we've covered the basic methods of backlink generation. We're going to continue the guideline and write the second part in which we will describe even more linkbuilding methods to help your company excel on the English-speaking markets.